Shrimp Scampi with Low GI Spaghetti
By: Sarah, Pilates Instructor @pilatesartstudiobuffalo
This delicious healthy pasta dish was provided by Sarah Griffin DiVincenzo from Buffalo NY. We are overjoyed that she shared with us her family favorite recipe made with Holista Low GI Spaghetti!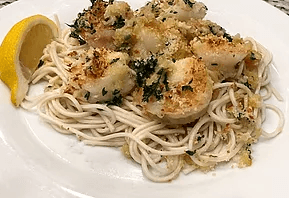 8 oz (approx.1/2 package) Holista Low GI Spaghetti
4 cloves garlic
¼ cup unsalted butter
⅓ cup olive oil
1 LB uncooked medium shrimp. Peeled & deveined
¼ cup lemon juice
¼ tsp pepper
½ tsp salt
¼ tsp oregano or Italian seasoning
¾ cup grated parmesan cheese
½ cup dry bread crumbs
¼ cup fresh minced parsley
Calories 682
Fat, Total 37 g
Saturated Fat 13 g
Total Carbohydrate 55 g
Added Sugar 0 g Natural 2 g
Fiber 5 g
Protein 32 g
Cholesterol 207 mg
Trans Fatty Acid 0 g
Sodium 587 mg
Fill a large pot ¾ full with water, bring to a boil.
In a 10 inch oven proof skillet, saute garlic in butter and oil until fragrant. Add shrimp, lemon juice, salt, pepper and oregano.
Cook and stir until the shrimp turns pink.
Sprinkle with cheese, breadcrumbs and parsley.
Broil 6 inches from heat 2-3 minutes until topping is golden brown.
When pasta water is boiling, add Holista Low GI Spaghetti to water.
Bring back to boil, boil 3 minutes stirring occasionally. Drain.
Serve Shrimp cheese mixture over hot pasta.
ENJOY!