A Word From Our Researchers
Following a low GI diet could help people living with diabetes better control their blood sugar levels.
Dr. David Jenkins, Professor
Departments of Nutritional Sciences and Medicine, Faculty of Medicine, University of Toronto
The low-GI diet is based on carbohydrates that slowly release energy, thereby reducing cravings and increasing the sense of satiety. More important, this stabilises the production of insulin. Roughly half of all adults suffer from insulin resistance - a condition that can lead to heart attacks, strokes and diabetes.
Dr. Jennie Brand Miller, Professor
Nutrition at the University of Sydney
The glycemic index is one of the best tools for fat loss. It measures how quickly foods breakdown into sugar in your blood stream.
Dr. Al Sears
Diet, Health and Wellness author, Palm Beach, Florida
Effect of a low glycemic index compared with a conventional healthy diet on polycystic ovary syndrome.
Kate A Marsh, Katharine S Steinbeck, Fiona S Atkinson, Peter Petocz, and Jennie C Brand-Miller


Some health benefits of low glycemic index diets – a systematic review.
Maretha Opperman, Christine S Venter, Welma Oosthuizen, Rachel L Thompson
School of Physiology, Nutrition and Consumer Sciences, North-West University, Potchefstroom and Public Health Nutrition, Institute of Human Nutrition, University of Southampton, UK
Low-glycemic index diets as an intervention for diabetes: a systematic review and meta-analysis.
Mohammad Ishraq Zafar, Kerry E Mills, Juan Zheng, Anita Regmi, Sheng Qing Hu, Luoning Gou and Lu-Lu Chen
Department of Endocrinology, Union Hospital, Tongji Medical College, Huazhong University of Science and Technology, Wuhan, P.R. China and Faculty of Science and Technology, University of Canberra, Canberra, Australia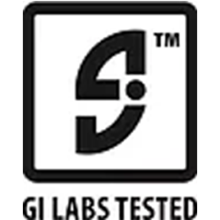 We adhere to the highest standards for clinical nutrition research and have our products tested at the renowned GI Labs in Toronto. The GI Labs Glycemic Index determination protocol fully complies with ISO 26642:2010, determination of the glycemic index and recommendation for food classification. We spare no expense on testing accuracy and we want to share our test results with you so you know how the Glycemic Index of 38 is determined.