Roast Chicken Noodle Vegetable Soup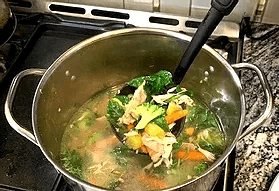 The best part about making a roast chicken dinner is making soup the next day with the left-over carcass.
This version is easy, healthy, satisfying, economical, and tastes incredible.
At around 125 calories a serving, you will not have to worry about gaining those extra COVID19 pounds.
This Chicken Soup is filled with nutrients and antioxidants that boost your immunity and will keep you warm and cozy all winter long!
​
1 leftover roasted chicken carcass
a large pot of water (approx. 4 quarts or 16 cups)
1 large onion peeled and thinly sliced
6 large stalks of celery trimmed and sliced in 1/4 inch pieces ( approx. 2 cups)
3 Tbsp low sodium Chicken Bouillon base or 9 cubes low sodium chicken bouillon cubes
1 Tbsp apple cider vinegar
12 ounces petite carrots (3 cups)
1 large head broccoli cut into small florets. (approx. 1 Lb,)
7 ounces (½ package) Holista Spaghetti or Linguini. (break sticks into 4 pieces)
salt and pepper to taste
Put the chicken in a large soup pot and cover with the water. Add onion, celery, chicken bouillon, and vinegar. Bring to a boil, reduce heat to low, and simmer for 1 ½ hours..
Turn off the heat. Using a slotted large spoon, remove the chicken and set aside.
Add carrots and broccoli. Turn heat on high and bring to a boil. Reduce to medium heat and cook for 10 minutes or until vegetables are fork-tender. Turn off the heat.
In a separate medium-size pot, add spaghetti or linguini to boiling water. Return to boil and cook for 3 minutes. Drain and add to soup.
Chop the chicken into small pieces, discarding the bones and skin. Add meat to soup.
Season with salt and pepper. Ladle into serving bowls ENJOY!
Chicken soup can be refrigerated up to 4 days