Shrimp & Holista Linguine in White Wine Caper Sauce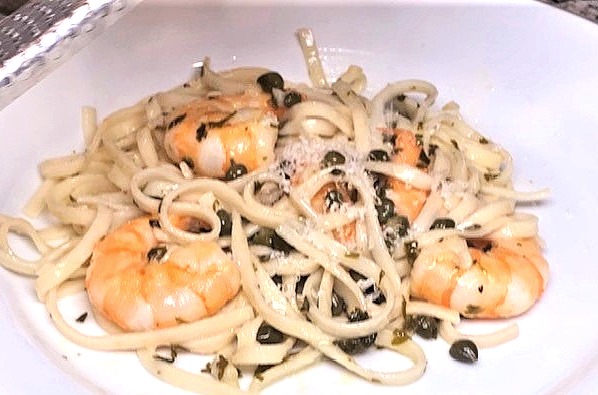 Remove shells and tails from shrimp, rinse and pat dry and dust with flour.
Heat skillet over medium heat, add olive oil.
Sauté shrimp for one to two minutes just until pink. Remove shrimp from skillet and set shrimp aside.
Add garlic to skillet and sauté over medium heat for 30 seconds.
Add wine and lemon juice and cook until liquid is reduced by half.
Stir in butter until melted.
Stir in parsley, capers, salt and pepper and shrimp.
Remove skillet from heat.
Bring a medium-large pot of water to boil. Add linguine to boiling water. Return to rapid boil and cook linguini for 3 minutes (ala dente). Or 4 minutes (more tender).
Scoop and reserve ¼ cup of the pasta water from the pot.
Drain the linguine. Add linguine to the shrimp skillet. Stir well.
(If needed to add moisture, Add some of the pasta water, and mix well.)
Return linguini shrimp skillet to low heat and simmer for 30 seconds to warm briefly.
Divide evenly between 4 plates. Sprinkle with parmesan cheese.
Enjoy!