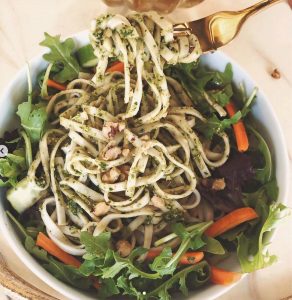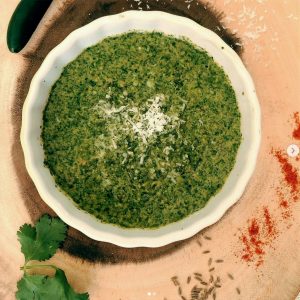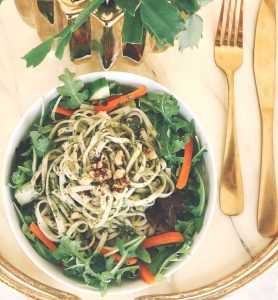 Spices glorious spices and delicious chutneys!  We love them and if you take a peek Huma Naz's fridge, you'll find a good variety of chutneys.  From sweet to savory and even spicy, she uses them in so many of my dishes!   Huma kindly shared her Homemade Coconut and Herb Chutneys, like this one, which provides both flavor and nutrition to a healthy meal without excess added sugars or sodium.  This recipe also provides a nice dose of fiber, vitamin C , vitamin A, and immune boosting antioxidants.
This chutney will become a staple in our fridge and blended so nicely with Holista Lingune.
You can check out more of Huma's incredible culinary creations on her IG @adoseofnutrition 
Thank you again for sharing this awesome recipe!
Toss the first 9 ingredients in a food processor and blend until smooth.  You can add in a little water while blending to smoothen. Set aside.
In a medium pot, add linguini to boiling  water. Return to rapid boil and cook linguini for 3 minutes ala dente.
Drain and rinse until cool.
Prepare 2 plates with mixed greens.
Toss linguine with the chutney and place on the bed of greens.
Sprinkle with more coconut for decoration and enjoy!