Nadja shares a hearty vegetarian pasta recipe that is both decadent and healthy.  Learn step by step, how to make breaded portobello mushroom cutlets served over Holista Spaghetti.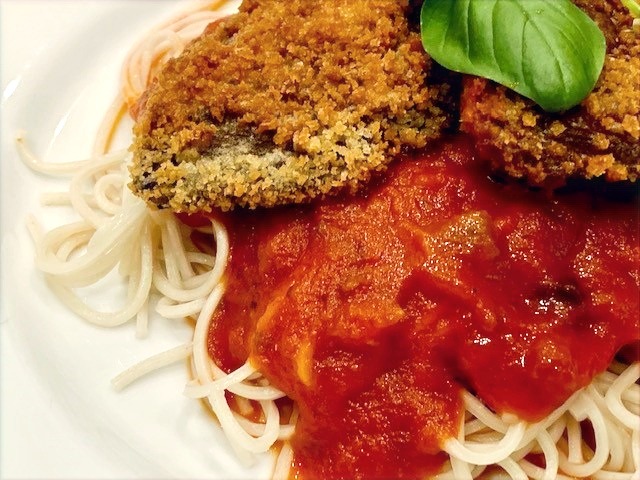 Mix together flour, garlic powder, oregano, salt, and pepper in a bowl and place in a shallow plate.
Whisk eggs and water together in a wide bowl
Place breadcrumbs in a large shallow plate or bowl.
Using a spoon, scrape the dark gills from each mushroom bottom. Rinse well and pat dry on a paper towel.
Cut each mushroom in half and cut down the center stem.
One at a time, dip each mushroom piece into the flour and lightly cover each side with flour.
Then dip the mushroom into the egg mixture, allowing the excess egg to drip off.
Then dredge into the breadcrumb mixture to coat.
Place breaded cutlets on a baking sheet to wait while oil is heating
Heat oil (vegetable & olive oil)  in a large heavy skillet or electric pan. There should be enough oil in the pan for the cutlets to "swim".
When the oil is hot, place one or two cutlets in the skillet at a time, being careful not to crowd the cutlets.
Fry first side until golden brown, about 2-3 minutes.
Turn cutlets over with a spatula, being careful not to splatter hot oil.
Fry on the second side until golden brown.
Drain on paper towels.
If you have more cutlets to fry, then place finished cutlets in a piece of foil and keep warm in the oven at 250°F while you continue to fry up the rest of the cutlets.
Warm tomato sauce
In a medium or large pot, add Spaghetti to boiling water. Return to a rapid boil and cook spaghetti for 3 minutes (ala dente). Drain.
Divide spaghetti evenly between 4 plates. Top with warm tomato sauce.
Place 2 mushroom cutlet halves on top of each plate.
Decorate with fresh basil.
Serve and Enjoy!