Ramen Low GI Holista Noodles made with chicken and vegetabl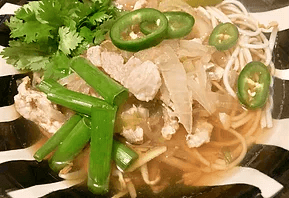 1/2 package (7 oz) Holista Low GI Spaghetti
3 Tbsp. canola oil
2 cloves chopped garlic
3 Tbsp. fresh chopped ginger
1 bunch scallions chopped into small pieces
8 ounces chicken breast, cut into medium sized pieces
1 head of broccoli, stems removed and cut into small flowerets
½ pound snow peas, cut into thirds diagonally
1 cup fresh basil leaves, roughly chopped
1 lime cut into 4 wedges
32 oz low-sodium chicken stock or broth
Calories 526
Fat, Total 20 g
Saturated Fat 3 g
Total Carbohydrate 66 g
Added Sugar 0 g Natural 5 g
Fiber 11 g
Protein 25 g
Cholesterol 49 mg
Trans Fatty Acid 0 g
Sodium 607 mg
Fill a large pot ¾ full with water, bring to a boil.
Heat a medium pot, add oil, when oil is smoking, add garlic and ginger and cook until it starts to color.
Add chicken pieces, saute for 1 minute, constantly stirring.
Add broccoli and snow peas, reduce heat to medium-low, stir then cover for 2 minutes.
Add chicken stock, bring to a boil, then simmer for 5 minutes.
When pot of water is boiling, add Holista Low GI spaghetti/noodles to water.
Bring back to boil, boil 3 minutes stirring occasionally, drain.
Add to chicken stock mixture, stir to combine.
Portion into serving bowls, add fresh basil and juice of lime if desire. Enjoy!