Noelle's Pasta Mushroom Spinach with Sage Turkey Meatballs
By: Noelle, Registered Dietitian Nutritionist
Make-Ahead, Savory Sage Turkey Meatballs with Holista Low GI Spaghetti, and Mushrooms and SpinachSave time and eat deliciously healthy with this make-ahead comfort food
Makes 2 servings (with turkey meatball leftovers!)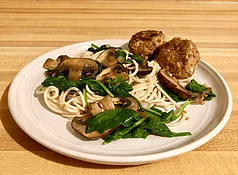 2 lbs ground turkey
3 garlic cloves, chopped
¾ cup bread crumbs of your choice
2 eggs
1 tsp salt
1 tsp black pepper
2 heaping Tbsp fresh chopped sage
3/4 large onion, chopped (save 1/3 for complete recipe)
Preheat oven to 350°F.
Combine dry ingredients and mix before adding ground turkey and eggs.
Whisk eggs and add to dry mixture with turkey.
Roll 1″ to 1.5″ round meatballs. (Makes 30 meatballs).
Place on lightly oiled baking sheets.
Bake 25 minutes, flipping half way through.
Meatballs should be lightly browned and reach an internal temperature of 165°F
Serve hot, and allow leftovers to cool before storing in the refrigerator and/or freezer.   Once the meatballs are in the oven you should prepare the rest of your meal. You can serve the meatballs with any vegetables, and sauce you want, but I think mushrooms and white wine are the perfect pairing with sage. Any dry white wine will do. I used cooking wine for this recipe.
Savory Sage Turkey Meatballs with Holista Spaghetti, Mushrooms and Spinach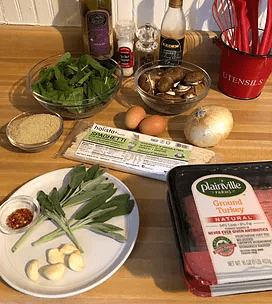 4-5 oz Holista Spaghetti (about 1/3 of the package)
8 oz package of mushrooms, sliced
1 Tbsp olive oil
1/4 onion, chopped
1 Tbsp fresh sage, chopped
1 clove garlic, chopped
1/2 cup white wine
1 Tbsp chili flakes (optional)
3 cups spinach
salt & pepper to taste
Heat a large pan over medium heat, add 1 Tbsp olive oil, and start a sauce pan of water for your spaghetti.
Sautee onion, garlic, sage, salt, pepper and red chili flakes until fragrant.
Add mushrooms and sautee for about 4 minutes. Mushrooms should be getting softer.
Pour in the white wine and quickly cover to allow the steam to cook the mushrooms
Cook your pasta while the mushrooms steam.
Add spinach to mushrooms and stir in the pasta to coat with the mushroom sauce.
It is a nice, light sauce.
Serve with 2 – 3 meatballs.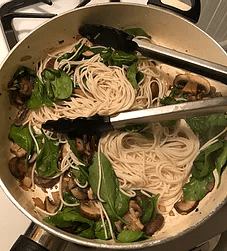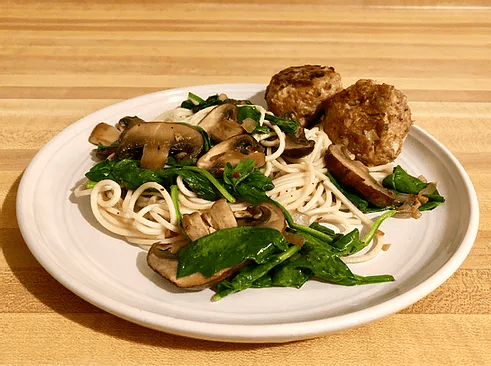 Calories 469
Carbs 60 g
Fat 12 g
Protein 33 g
Cholesterol 116 mg
Sodium 349 mg
Sugars 3 g
Fiber 8 g
Cool meatballs before placing in freezer bags, or containers and freezing.
Use a shallow flat container as these are best for getting everything cooled, and frozen equally. If planning to reheat in the same container you may want to use a glass container. Otherwise a freezer storage bag will work, and you can take out what you need as needed without wasting space in the freezer.
Try not to use disposable containers. These are not the best, as they may retain odors of previously stored foods.
Use meatballs within 3 – 4 months of being frozen for the best quality.
In the refrigerator: Thaw frozen meatballs in fridge overnight. If you don't eat them the next day, not to worry. They will keep for 3-4 days in the fridge.
In the microwave: When you use the microwave to thaw, continue to heat the meatball until the internal temp. is 165.
You can choose to reheat the meatballs on the stove top in the sauce you are serving them with for about 10 minutes. Alternatively you can reheat them in the oven at 300 for about 15 minutes. Whichever method you choose be sure they are heated through. (Remember, the center should be 165°F). Holista Spaghetti cooks quickly, and if you are batching for lunch at work, it reheats great in the microwave.
(Food Safety Tip: This is the temperature you always want to heat leftovers to.)