Noelle's Low GI Noodle Vietnamese Pho
This Fall, Warm up with a Vietnamese staple. A Simple and Tasty Low GI Noodle Phở that will warm you up and help keep you feeling well.
By: Noelle, Registered Dietitian Nutritionist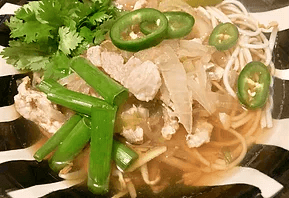 8 oz (approx.1/2 package) Holista Low GI Spaghetti
2 star anise pods*
8 cups unsalted or low sodium beef broth
1 large onion, sliced thin
3 inch piece of ginger, peeled and thinly sliced
4 cloves garlic chopped
1 Tbsp. low-sodium soy sauce
1 tsp. fish sauce
12 oz. eye of round beef, or pork ribs, sliced 1/8 inch thick**
2 cups bean sprouts
1 jalapeno, sliced
4 scallions cut into 1-inch pieces
1 cup of cilantro leaves
4 lime wedges
Optional: Siracha and/or hoisin
490 calories,
13g fat,
2.5g saturated fa,
50mg cholesterol
370mg sodium
57g carbohydrate
4g fiber
1g sugar,
35g protein
55% vitamin A
80% vitamin C
9% Calcium,
40% Iron.
A few things before you begin:
*If you are in a bind, and cannot find star anise, use ¼ tsp. fennel seeds. You do not want to omit the flavor star anise adds to the soup.
**Freeze beef or pork for one hour before preparation to make it easier to slice thin.
Vegetarian: Use mushroom or vegetable broth. Substitute king trumpet mushrooms, sliced thin, for the beef or pork. You can also use tofu.
Start out by toasting the star anise pods or fennel seeds until fragrant in a large stockpot over medium heat.
Add broth, ginger, garlic, and onion, increase heat to medium-high, and bring to a boil. Reduce heat to low, cover and simmer for 30 minutes.
While soup simmers you can slice jalapeno, cut scallions, chop cilantro and divide rinsed bean sprouts among the bowls. If you are having one serving, just add a half-cup of bean sprouts to your bowl.
Remove the star anise pods from the soup after simmering. Stir in soy and fish sauces.
Bring a large pot of water to a boil for your noodles. Holista noodles cook in 3 minutes, which is the same amount of time it will take your beef to cook. After adding the noodles to the boiling water, immediately add the sliced beef to the soup.
Drain your noodles when they are done, and divide among the bowls. Ladle soup over noodles and bean sprouts.
Top with scallions, jalapenos, cilantro and a squeeze of lime. Option to add Siracha and hoisin, or keep these on the side for dipping your beef/pork or mushroom.
ENJOY!