Low GI Pasta with grilled vegetables
A perfect summer dish for the BBQ. Healthy and delicious!
Serves 4 - can be served hot or cold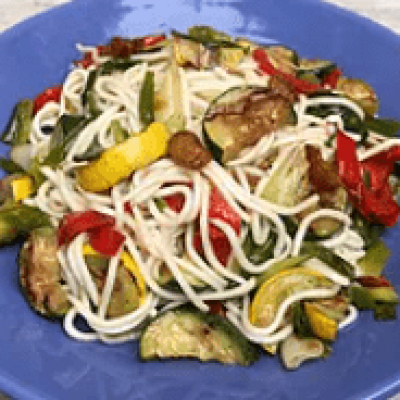 Calories: 190
Sugar: 8 grams
Fat: 6 grams
Carbs: 18
Low GI
Fill medium to large pot with water, bring to a boil.

Break Holista™ Low GI Spaghetti in half and in half again (4 equal sections), set aside.

Break garlic head into cloves and peel. Place whole garlic cloves in small saucepan, add olive oil. Cook on medium heat until garlic turns to a light golden brown color (you should smell a roasted garlic flavor). Remove from heat and strain garlic into small bowl to cool. Cool roasted garlic cloves separately.

Heat the BBQ grill to medium heat.

Cut the zucchini and squash in half. Drizzle the zucchini and red pepper with a little bit of the garlic olive oil and season with a pinch of salt and pepper.

Place the vegetables on the grill and grill for about 10 minutes, flipping halfway through. Let vegetables cool in a large bowl.

Cut cooled vegetables into bite sized pieces. Place back into bowl and toss with any liquid in bowl.

When water is boiling, add Holista™ Low GI Spaghetti to water, Return to boil.

Boil 3 minutes stirring occasionally. Drain and rinse with cold water until spaghetti is cold.

Add drained spaghetti to cold grilled vegetables, add roasted garlic oil, garlic cloves, mix to combine, add salt and pepper to taste

Sprinkle with grated Parmesan cheese.

Enjoy!
      **** You can add any grilled proteins if desired.