Comfort Baked Spaghetti Parm
A perfect pasta dish any time of the year. Healthy and delicious!
Serves 4 - can be served hot or cold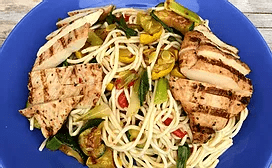 8 oz Holista Spaghetti
4 skinless boneless chicken breast halves
1 medium Green Zucchini
1 medium Yellow Squash
1 Large Red Bell Pepper
1 Bunch Scallions
1 Whole Head of Garlic
1/4 cup Olive Oil
1/2 cup grated Parmesan cheese
1 lemon – cut in half
Kosher Salt
Black Pepper
Calories 518
Protein 35 g
Fat, Total 19 g
Saturated Fat 4 g
Total Carbohydrate 47 g
Added Sugar 0 g Natural 3 g
Fiber 5 g
Cholesterol 21 mg
Trans Fatty Acid 0 g
Sodium 418 mg
Squeeze juice of one half lemon over chicken breasts. Season with salt & pepper and set aside.
Break Holista Spaghetti in half and in half again (4 equal sections), set aside.
Break garlic head into cloves and peel. Place whole garlic cloves in small saucepan, add olive oil. Cook on medium heat until garlic turns to a light golden brown color (you should smell a roasted garlic flavor). Remove from heat and strain garlic into small bowl to cool. Cool roasted garlic cloves separately.
Heat the BBQ grill to medium heat.
Cut the zucchini and squash in half. Drizzle the zucchini and red pepper with a little bit of the garlic olive oil and season with a pinch of salt and pepper.
Place the vegetables on the grill and grill for about 10 minutes, flipping halfway through. Let vegetables cool in a large bowl.
Grill chicken breasts 7-8 minutes on each side. (or until thermometer reaches 170 F)
Fill medium to large pot with water, bring to a boil.
Cut vegetables into bite sized pieces. Place back into bowl and toss with any liquid in bowl.
When water is boiling, add Holista™ Low GI Spaghetti to water, Return to boil.
Boil 3 minutes stirring occasionally. Drain and rinse with cold water.
Add drained spaghetti to grilled vegetables.
Add roasted garlic oil, garlic cloves, Juice of ½ lemon mix to combine. Add salt and pepper to taste.
Sprinkle with grated Parmesan cheese.
Top with sliced chicken breast.
Enjoy!