Low GI Noodle with tofu, sun-dried tomato, capers, and pesto
5 Healthy Ingredient = 1 Delicious Quick and Easy Summer Salad
By: Veronica, VP of Operations
Serves 4 - 6 side salads or 2 - 3 main dishes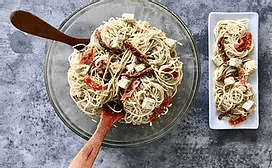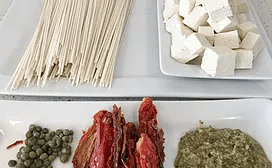 ½ package (7 oz) Holista™ Spaghetti
1 jar (8oz) of low-sodium pesto – brand of your choice or see pesto directions below to make your own
1 jar (6 oz) capers – drained
2 cups sundried tomatoes – sliced into strips
1 package (14 oz) of extra firm tofu – diced into ½ inch cubes
Salt and pepper to taste
Calories 566
Fat, Total 19 g
Saturated Fat 1 g
Total Carbohydrate 67 g
Added Sugar 0 g Natural 16 g
Fiber 10 g
Protein 23 g
Cholesterol 9 mg
Trans Fatty Acid 0 g
Sodium 575 mg
Start by slicing the sun-dried tomatoes into strips (if your tomatoes are whole pieces) and soak in water for 20 minutes. Set aside while preparing the rest of the dish.
Chop the block of tofu into ½" cubes and set aside.
Fill a large pot ¾ full with water, bring to a boil.
When pot of water is boiling, add ½ package Holista Low GI spaghetti to water.
Bring back to boil, boil 3 minutes stirring occasionally. Drain but save a ¼ cup of the pasta water. Then rinse with room temp water to cool the pasta slightly but not make it cold.
Place strained pasta in large bowl. Add the jar of pesto and mix. If too thick slowly add a bit of the pasta water and mix to moisten.
Add​ ​the drained sundried tomatoes and tofu and toss lightly until blended.
Salt and pepper to taste
Enjoy immediately at room temperature or let cool in the fridge for an hour.
2​ ​cups​ fresh​ basil​ ​(rinsed​ ​and​ ​dried)
½ ​cup​ ​pine​ ​nuts​ ​(lightly​ ​toasted)
2​ ​cloves​ ​garlic,​ ​peeled​ ​and​ ​finely​ ​chopped
½​ ​cup​ ​extra virgin​ ​olive​ ​oil
Kosher​ ​or​ ​sea​ ​salt
Fresh​ ​cracked​ ​black​ ​pepper
1⁄2​ ​cup​ ​freshly​ ​grated​ ​parmesan cheese
Combine​ ​first​ ​3​ ​ingredients​ ​into​ ​food​ ​processor,​ ​Using​ ​the​ ​pulse​ ​button,​ ​process​ ​until combined.​ ​Stop, scrape​ ​sides.​ ​
Slowly​ ​add​ ​olive​ ​oil​ ​and​ ​continue​ ​to​ ​blend​ ​until​ ​well​ ​mixed and​ ​a​ ​paste​ ​forms.​ ​Remove​ ​from​ ​mixer.​ ​
Add​ ​1⁄4​ ​cup​ ​cheese,​ ​mix​ ​until​ ​combined.​
​Add​ ​salt​ ​and​ ​pepper​ ​to​ ​taste.​ ​Set​ ​aside​ ​at​ ​room​ ​temperature​ ​until​ ​ready​ ​for use.​
Leftover​ ​Pesto​ ​can​ ​be​ ​held​ ​in​ ​the​ ​refrigerator​ ​for​ ​5​ ​days,​ ​or​ ​placed​ ​in​ ​an​ ​airtight container​ ​and​ ​frozen​ ​for​ ​3​ ​months.