Low GI Holista Spaghetti with grilled prawn and pesto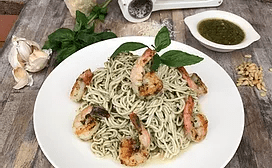 2 cups fresh basil (rinsed and dried)
½ cup pine nuts (lightly toasted)
2 cloves garlic, peeled and finely chopped
½ cup extra virgin olive oil
Kosher or sea salt
Fresh cracked black pepper
1⁄2 cup freshly grated parmesan cheese
1 lb medium to large shrimp, peeled and deveined
½ cup pesto sauce
1/8 cup olive oil
8oz Holista Low GI Spaghetti
Calories 769
Fat, Total 52 g
Saturated Fat 8 g
Total Carbohydrate 45 g
Added Sugar 0 g Natural 1 g
Fiber 4 g
Protein 33 g
Cholesterol 191 mg
Trans Fatty Acid 0 g
Sodium 647 mg
Combine first 3 ingredients into food processor. Using the pulse button, process until combined. Stop, scrape sides.
Slowly add olive oil and continue to blend until well mixed and a paste forms.
Remove from mixer. Add 1⁄4 cup cheese, mix until combined.
Add salt and pepper to taste. Set aside at room temperature until ready for use.
Cook's tip – Leftover Pesto can be held in the refrigerator for 5 days, or placed in an airtight container and frozen for 3 months.
Directions for Grilled Shrimp:
Combine shrimp, ½ cup pesto ad 1/8 cup olive oil in mixing bowl, mixing well. Cover and set aside.
Heat grill until hot.
When grill is ready, remove shrimp from marinade, place shrimp on hot grill cooking 1-2 minutes on each side, remove shrimp from grill and set aside.
Low GI Spaghetti/ Noodle Directions:
Fill a large pot ¾ full with water, bring to a boil.
When pot of water is boiling, add Holista Low GI spaghetti to water.
Bring back to boil, boil 3 minutes stirring occasionally, drain. (reserving 1⁄2 cup water)
While noodles are still hot, add 1 cup of fresh pesto sauce and mix well. If mix is too dry slowly add some of the reserved pasta water to thin out sauce.
Portion noodles into 6 equal servings.
Add shrimp to each plate.
Top with additional cheese or pesto sauce.
ENJOY!