Low GI Holista Linguine in white clam sauce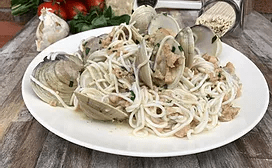 8 oz Holista Linguine
2 Tbsp olive oil
4 cloves garlic, roughly chopped
24 littleneck clams, rinsed
3 (6.5 oz) cans of chopped clams. Separate juice from clams
4 ounces (½ Cup) white wine
4 Tbsp unsalted butter
1 Tsp crushed red pepper (optional)
3 Tbsp chopped parsley
salt and pepper to taste
Calories 520
Fat, Total 23 g
Saturated Fat 10 g
Total Carbohydrate 46 g
Added Sugar 0 g Natural 0 g
Fiber 3 g
Protein 25 g
Cholesterol 85 mg
Trans Fatty Acid 0 g
Sodium 307 mg
Fill a large pot ¾ full with water, bring to a boil.
Heat a large skillet pan on stove, when hot, add oil, then garlic. Cook for 30 seconds
Add clams, white wine and juice from canned clams. Cover and cook until clams steam open.
When clams open, add chopped clams. Heat for 1 minute.
Add butter and continuously swirl pan (this will help emulsify the sauce.
Add seasonings (salt, pepper, red pepper). Add 2 Tbsp chopped parsley.
When pasta water is boiling, add Holista Linguine to water.
Bring back to boil, boil 3 minutes stirring occasionally. Drain.
Toss with a small amount of clam sauce.
Divide Holista Linguine on plates or bowls. Top with clams and clam sauce.
Sprinkle with remaining 2 Tbsp. parsley. Enjoy!