Linguine 'Alfredo' with Almond, Pesto Crusted Salmon
A nutrient dense way to satisfy your craving of rich and creamy Alfredo sauce
By: Noelle, Registered Dietitian Nutritionist
Serves 4 - 6 side salads or 2 - 3 main dishes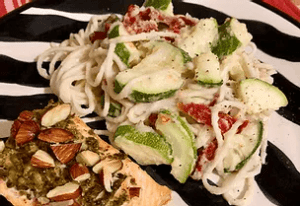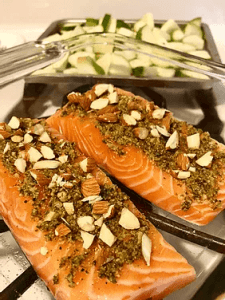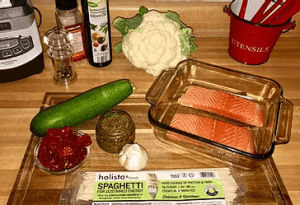 If you love Alfredo sauce, or your family members do, this recipe is an absolute must try. It is a great way to get more vegetables in to your diet, and reap the health benefits while satisfying the cravings for rich and creamy Fettuccine Alfredo with healthy pasta.
​Swapping this sauce for traditional Alfredo will save you calories, saturated fat, sodium, and others while adding nutrients associated with heart health, cancer prevention and others. Also, the serving size of most Alfredo sauces is only ¼ cup, this recipe includes ½ cup serving size of sauce, so you can indulge in the creamy goodness without the guilt.
1 large head of Cauliflower
1 cup of water
4 cups Holista Linguine, cooked
12 oz. Salmon
2 Tbsp. Pesto
2 Tbsp. almonds, chopped
2 large zucchini
8 cloves of garlic, roasted
1 Tbsp. butter
¼ cup soy milk
¼ cup sun-dried tomatoes
Salt and pepper to taste
Calories 450g
Total fat 12 g
Saturated fat 3 g
Cholesterol 50 mg
Sodium 435 mg
Potassium 914 mg
Carbohydrates 59 g
Protein 29 g
Calcium 9% DV
Iron 28% DV
Vitamin A 23% DV
Vitamin C 20% DV.
Pre-heat oven to 400 degrees. The first step is to roast your garlic. Take a whole garlic bulb, and chop off the top ¼ inch with a sharp knife. The individual cloves should be exposed. You will roast this in the oven for 30 minutes.
​While the garlic is roasting you can start steaming your cauliflower. Rinse and chop cauliflower. Place it in a large pot with one cup of water and simmer, covered for about 20 minutes. You will use the water to puree the cauliflower, do not discard this water after steaming.
Place salmon in baking dish, skin side down. Spread pesto over salmon, and top with chopped almonds.
​Cut zucchini in pieces and place on baking dish with drizzle of olive oil, salt and pepper.​
Place salmon and zucchini in oven with garlic and set another timer for 25 minutes.​
When garlic is done roasting remove cloves from skin. When cauliflower is soft and easy to pierce with a fork, add contents of pot to a blender with garlic, butter and soymilk. (Use caution when blending hot liquids not to burn your self. Sometimes the heat can add pressure to the blender). Blend until creamy. You will have about 3 cups total.
In the large pot, bring water to a boil and cook Holista Linguine according to instructions.
Toss linguine, zucchini, and sun-dried tomatoes in 2 cups of sauce. Serve salmon on the side, or over the linguine.
Enjoy!
2​ ​cups​ fresh​ basil​ ​(rinsed​ ​and​ ​dried)
½ ​cup​ ​pine​ ​nuts​ ​(lightly​ ​toasted)
2​ ​cloves​ ​garlic,​ ​peeled​ ​and​ ​finely​ ​chopped
½​ ​cup​ ​extra virgin​ ​olive​ ​oil
Kosher​ ​or​ ​sea​ ​salt
Fresh​ ​cracked​ ​black​ ​pepper
1⁄2​ ​cup​ ​freshly​ ​grated​ ​parmesan cheese
Combine​ ​first​ ​3​ ​ingredients​ ​into​ ​food​ ​processor,​ ​Using​ ​the​ ​pulse​ ​button,​ ​process​ ​until combined.​ ​Stop, scrape​ ​sides.​ ​
Slowly​ ​add​ ​olive​ ​oil​ ​and​ ​continue​ ​to​ ​blend​ ​until​ ​well​ ​mixed and​ ​a​ ​paste​ ​forms.​ ​Remove​ ​from​ ​mixer.​ ​
Add​ ​1⁄4​ ​cup​ ​cheese,​ ​mix​ ​until​ ​combined.​
​Add​ ​salt​ ​and​ ​pepper​ ​to​ ​taste.​ ​Set​ ​aside​ ​at​ ​room​ ​temperature​ ​until​ ​ready​ ​for use.​
Leftover​ ​Pesto​ ​can​ ​be​ ​held​ ​in​ ​the​ ​refrigerator​ ​for​ ​5​ ​days,​ ​or​ ​placed​ ​in​ ​an​ ​airtight container​ ​and​ ​frozen​ ​for​ ​3​ ​months.