Lemon Zest Low GI Noodles with turmeric grilled tempeh
By: Veronica, VP of Operations
Serves 6 - 8 side salads or 4 main dishes
Zesty, Delicious & Nutritious! Can be served hot or cold!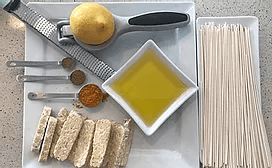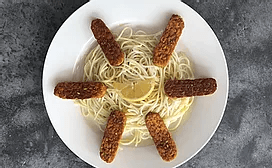 ½ package (7 oz) Holista Spaghetti
2 x 8oz packages of tempeh
2 lemons
1 Tbsp. turmeric powder
1 tsp. cumin
½ tsp ground coriander
¼ cup olive oil
salt
Calories 537
Fat, Total 28 g
Saturated Fat 4 g
Total Carbohydrate 49 g
Added Sugar 0 g Natural 1 g
Fiber 9 g
Protein 26 g
Cholesterol 9 mg
Trans Fatty Acid 0 g
Sodium 184 mg
Directions Grilled Tempeh
Combine ¼ cup olive with turmeric, cumin and coriander to make a paste. Add salt to taste.
Slice tempeh into ½ inch slices (about 16 pieces) and toss in olive oil mixture.
Sauté tempeh in a skillet on medium high. Turn tempeh over occasionally and sauté until crispy.
Once ready, wait for spaghetti and portion tempeh on top per the number of servings required.
Directions Holista Spaghetti
Fill a large pot ¾ full with water, bring to a boil.
Break Spaghetti in half (2 equal sections).
While waiting for water to boil, slice one lemon into wedges for garnish.
Using a lemon zester, grate the other lemon and zest into a medium side bowl (large enough to hold the spaghetti once cooked).
Once fully zested, cut lemon in half and squeeze juice in the same bowl.
Mix in 1/4 cup of olive oil to make a lemon mixture. Add salt to taste.
When pot of water is boiling, add Holista™ Low GI spaghetti to water, bring back to a boil.
Cook for 3 minutes and stir occasionally.
Once cooked, drain spaghetti, add to lemon bowl and toss with the lemon mixture.
Plate the spaghetti as required for number of people, top with grilled tempeh and garnish with lemon wedges. Sprinkle any additional oily bit from the pan for extra flavour.