Comfort Baked Spaghetti Parm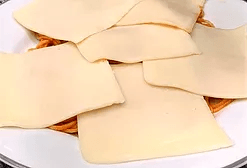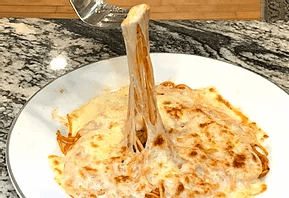 A CHEESE & PASTA LOVERS DELIGHT
Just 5 ingredients are all you need to make this easy delicious vegetarian meal in less than 30 minutes.
If you've ever been to Buffalo NY you've probably heard of the local pasta obsession,  Spaghetti Parm.  The iconic dish, created at Chefs Restaurant, might be the city's most famous pasta. It is Chef's number one selling dish and a favorite of generations of Buffalonians who deem it a necessary part of family milestones.
8 oz (approx 1/2 package) package Holista Spaghetti
1 jar Tomato Basil Sauce (24 oz)
16 oz sliced part skim Mozzarella Cheese
3 TBLP butter, melted.
½ cup grated parmesan cheese
Calories 566
Fat, Total 19 g
Saturated Fat 1 g
Total Carbohydrate 67 g
Added Sugar 0 g Natural 16 g
Fiber 10 g
Protein 23 g
Cholesterol 9 mg
Trans Fatty Acid 0 g
Sodium 575 mg
Fill a large pot ¾ full with water, bring to a boil.
When water is boiling, add Holista Low GI spaghetti to water.
Bring back to rapid boil. Boil 3 minutes, for ala dente, stirring occasionally. Drain.
Transfer drained pasta back into empty pot and add butter. Stir until blended.
Heat tomato sauce in a medium pot.
Add 1 cup Tomato sauce to buttered pasta and stir to blend. Reserve rest of the sauce.
Place the oven rack in the middle of the oven. Preheat your broiler to high heat.
Divide the prepared pasta on 4 individual oven safe plates or one large oven safe serving dish.
Cover pasta evenly with mozzarella cheese slices.
Place in oven and broil for 1½ to 2 minutes or until cheese is browned.
Carefully remove from oven. The plates will be hot. Slip each individual plate onto another plate to serve. Serve right away while the cheese is runny and deliciously gooey.
Serve with additional warm tomato sauce and sprinkle with parmesan cheese.
Add a green salad and a glass of chianti and enjoy!