Braised Chicken Thighs with Mushrooms & Bacon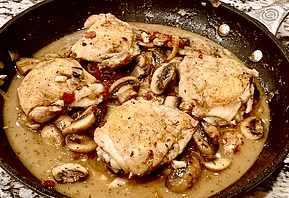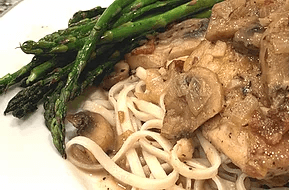 Once a week my husband and I get dressed up and have date night in our kitchen.
This is one of our favorite meals. It pairs beautifully with any dry white wine.
This is an elegant yet simple meal made with healthy pasta that makes "dining in" special.
3 slices Bacon
2 Tbsp. Olive oil
4 chicken thighs
1 medium onion thinly sliced
2 cloves garlic smashed
1 LB mushrooms cleaned and sliced
1 cup dry white wine
2 cups chicken stock
2 tsp dried thyme or bundle fresh thyme
½ tsp salt
1/8 tsp red pepper flakes
1/3 package Holista Linguini.
Chop bacon into small ½ inch pieces. Fry in skillet until crisp. Set bacon aside.
Drain fat from skillet. Add olive oil to skillet and brown chicken thighs, on both sides.
over medium heat. Remove chicken from skillet and set aside.
Add mushrooms and onions to skillet and sauté for 3-4 minutes over medium heat until mushrooms lose most of their liquid. Add garlic during last minute.
Add wine, thyme, salt and pepper flakes and cook, stirring often, until liquid is reduced by half.
Return chicken to the pan. Add chicken stock to almost cover chicken. Bring to a boil. Reduce to simmer for 30 minutes.
Remove chicken from skillet and set aside.
Cook sauce over medium heat to thicken it, stirring occasionally.
Return chicken and bacon bits to sauce.
In a medium pot, add linguini to boiling water. Return to rapid boil and cook linguini for 3 minutes ala dente Or 4 minutes more tender.
Drain.
Divide linguini evenly between 2 plates. Top with chicken & mushroom sauce. Enjoy!