This is a delicious easy Spring and Summer dish that's ready in just 10 minutes so you can spend more time enjoying the outdoors. It's great as vegetarian main dish for 4. Or a perfect side dish for 6. We love it served alongside grilled chicken or ribs.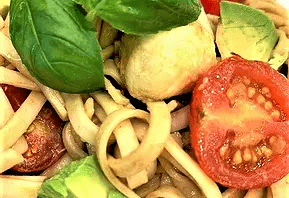 ½ package (7 ounces) Holista Pasta – Spaghetti or Linguini
1 pint (2 cups) cherry tomatoes- cut in half.
8 ounces ( 1 ½ cups) mini mozzarella balls – drained
1 Avocado – chopped into I inch pieces
½ cup chopped fresh basil
4 Tbsp. Olive oil
3 Tbsp. Balsamic Vinegar
1 garlic clove crushed
¼ tsp salt
1/8 tsp pepper
Break up uncooked pasta into bite size pieces.
Add pasta pieces to a medium or large pot of boiling water.
Return to boil and cook for 3 minutes. Drain and rinse with cold water
In a large bowl combine the pasta, tomatoes, mozzarella, avocado and basil.
In a small bowl mix together olive oil, balsamic vinegar, garlic, salt and pepper. Add to pasta mixture and blend well. If desired, add more salt and pepper to taste
Serve and Enjoy!