Noodles on the BBQ? Absolutely! And this heathy noodle dish is incredibly easy!
Nadski's Quick and Easy Balsamic Glazed Brussel Sprouts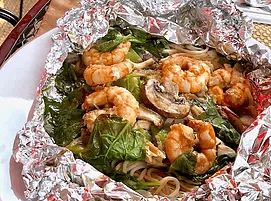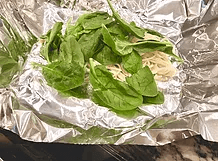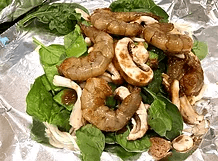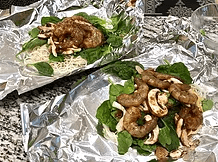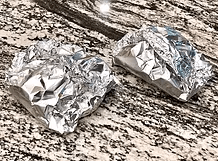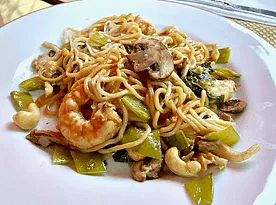 1/3 cup soy sauce
4 Tbsp sesame oil
3 large garlic cloves grated
1 Tbsp grated fresh ginger
1 Tbsp honey
2 Tbsp rice vinegar
Pinch of crushed red pepper
1 Lb jumbo raw shrimp. Peeled and deveined
Cooking spray or 2 Tbsp olive oil
8 ounces Holista spaghetti (1/2 package)
4 cups loosely packed baby spinach
2 cups sliced mushrooms
¼ lb (4 oz) snow peas sliced in one inch pieces
1 cup whole cashews (optional)
Whisk together soy sauce, sesame oil, garlic, ginger, honey, rice vinegar and red pepper in a large bowl. Add shrimp and marinate for 20 minutes in refrigerator. Remove shrimp from marinade and reserve marinade.
Fill medium to large pan with water. Bring to a boil. Add ½ package Holista Spaghetti. Return to boil. Cook for 3 minutes. Drain.
Preheat barbecue grill to medium high (400 F)
Spray 4 large sheets of aluminum foil with cooking spray or brush with oil.
Divide evenly with cooked Holista Spaghetti. Top each with one cup spinach, ½ cup mushrooms, and ¼ cup snow peas. Top evenly with shrimp. Spoon reserved marinade evenly among 4 foil packets. Bring up sides of foil; double fold top edges and sides (not too tight) making a packet.
Place packets seam side up on hot grill. Grill, with covered lid, for 7-8 minutes until shrimp are no longer translucent.
Transfer to individual plates. Top with cashews.
Enjoy!