Balsamic Glazed Brussel SproutsLow GI Pasta All'aglio E Olio
A perfect pasta dish any time of the year. Healthy and delicious!
Nadski's Quick and Easy Balsamic Glazed Brussel Sprouts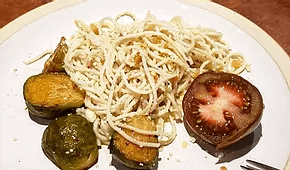 Cooking together is fun!
This a delicious vegetarian healthy pasta dish made by a lovely Italian/Ukrainian couple who know how to cook!
Thank you Joe and Nadski for sending your recipes and pictures – we love this recipe!
1 dozen Brussel sprouts, washed & cleaned of dry, outside leaves
3 tablespoons avocado oil*
3 tablespoons balsamic vinegar
pinch of coarsely ground black pepper to taste
pinch of Himalayan salt
In a steamer pot, par boil the Brussel sprouts whole until the leaves turn a bright, almost lime green….approximately 2-3 minutes.
Remove from steamer, cut in halves and set aside in a bowl.
In a non-stick fry pan, heat avocado oil on medium high heat then stir fry the Brussel sprout halves quickly until tender, not mushy….again, approximately 2-3 minutes, stirring constantly to prevent burning.
Turn heat off and drizzle balsamic vinegar over the sprouts, stirring constantly to cover all halves in vinegar and reduce the amount of vinegar.
Remove from heat. Add pepper & salt to taste.
Serve as a side dish.
...and Joe D's Low GI Pasta All'aglio E Olio
2 large cloves of garlic, chopped fine
6 tablespoons of olive oil
pinch of salt (optional)
1 tablespoon freshly chopped basil leaves OR dried crushed basil (optional)
course ground pepper to taste
4 ounces (aprox 1/4 package) Holista's low glycemic spaghetti (for 2 portions/people)
grated parmesan cheese to taste
In a small skillet, heat oil on medium heat. Fry chopped garlic until golden brown and set aside.
Boil pasta as per instructions. Drain and toss into a large mixing bowl with garlic fried in oil.
Add pepper, parmesan cheese and basil. Salt if desired.
Serve with Nadski's Balsamic Brussel Sprouts and sliced fresh Komato tomatoes for colour.ENJOY!