Tomato Basil, Low GI Healthy Spaghetti with Baked Cod and Broccolini
By: Noelle, Registered Dietitian Nutritionist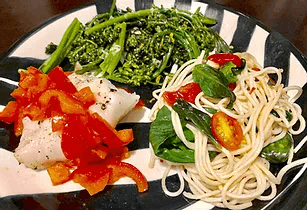 Approximately ½ pound Pacific Cod
4 oz Holista Low GI Spaghetti
1 cup fresh Basil, torn
1 cup cherry tomatoes, halved
½ red bell pepper, chopped
1 bunch broccolini, trimmed
4 cloves garlic, chopped
½ tsp oregano
Salt, black pepper and chili flakes to taste
3 Tbsp. Extra Virgin Olive Oil
Lemon zest
Parmesan Cheese
Calories 562 kcal
Fat, Total 24 g
Saturated Fat 3.7 g
Total Carbohydrate 53 g
Added Sugar 0 g Natural 6 g
Fiber 8 g
Protein 34 g
Cholesterol 76 mg
Trans Fatty Acid 0 g
Sodium 565 mg
Preheat oven to 400 °F.
Spread broccolini in a 9 x 13 glass baking dish, saving space for the red bell pepper. Toss vegetables with 1 Tbsp of olive oil, keeping the pepper separate.
Add half of the chopped garlic to the broccolini, and lightly zest lemon on top. Sprinkle oregano over red pepper. Salt and black pepper to taste. Set aside.
In a large or medium pot, turn water on high to boil for spaghetti.
Meanwhile, place cod in 8 x 8 baking dish and coat both sides with 1 Tbsp olive oil. Grate lemon zest over the cod, and lightly pepper.
Place cod and vegetables in the pre-heated oven and set timer for 12 minutes.
You will have a few minutes now while you wait for the water to come to a boil. This is the perfect time to clean any dishes you have used thus far. *Especially the lemon zester if you are using a cheese grater that you will need for the Parmesan!
When there are only 3 or 4 minutes left on your timer add the spaghetti to your boiling water. Let it boil for 3 minutes, and presto it is done. Drain and rinse spaghetti with hot water to keep it warm.
While the spaghetti is in the strainer, sautee remaining garlic, and the halved tomatoes in the pot with about 1 tsp. olive oil until fragrant. (Chili flakes are optional).
Return spaghetti to pot, add torn basil, drizzle olive oil and toss.
Top the cod with your baked red pepper, and shave about 1 Tbsp. Parmesan over your spaghetti and broccolini.
ENJOY!