Asian Stir-fry Low GI Noodles Chicken & Vegetables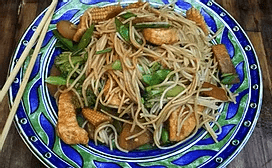 1/2 package (7 oz) Holista Low GI Spaghetti
2 Tbsp Canola Oil
1 lb boneless chicken cut into small cubes
3 cloves garlic, chopped into small pieces
4" fresh ginger, cut into small pieces
1 can ( 8 oz) sliced water chestnuts, drained
1 can ( 8 oz) bamboo shoots, drained
1 can( 15 oz) baby corn, drained, cut into small pieces
2 cups Broccoli Florets
1 cup carrots, sliced thinly
1 bunch scallions, sliced thin (green and white parts)
2 Tbsp low sodium soy or Teriyaki sauce
1 cup low sodium, or home-made chicken stock
1 Tbsp cornstarch
1 Tbsp Sesame Oil
Calories 524
Fat, Total 14 g
Saturated Fat 2 g
Total Carbohydrate 59 g
Added Sugar 0 g Natural 8 g
Fiber 6 g
Protein 38 g
Cholesterol 76 mg
Trans Fatty Acid 0 g
Sodium 563 mg
Fill a large pot ¾ full with water, bring to a boil.
Heat large skillet or wok, when hot, add canola oil. When oil is smoking, add chicken pieces. Heat for 1 minute, stirring continuously.
Add garlic and ginger, saute for 30 seconds.
Add remaining vegetables, cook for 2 minutes stirring often.
Add soy or teriyaki sauce, heat for 30 seconds.
In a separate bowl, add cornstarch to cold chicken stock until mixed combined.
Add cornstarch liquid mixture to pan. Bring to a boil stirring often. Mixture will thicken slightly, reduce heat
When pot water is boiling, add Holista Low GI spaghetti/noodles to water.
Bring back to boil, boil 3 minutes stirring occasionally, drain, rinse. Return to pot.
Stir in sesame oil.
Portion noodles evenly into bowls or plates.
Add chicken and vegetable mixture on top of noodles.
Enjoy!